Coerver Coaching Master Class – Air Juggling
Many coaches think that air juggling is a street skill with no real benefit in competitive soccer. However this skill rapidly improves players first touch in addition to helping with the weight of passes. This skill has to be one of the easiest to practice. It require no special equipment, just some space and a ball.
The best place to start with Air Juggling is to simply pick up the ball and drop it to each foot and then catch it again. Once you have mastered this you can take two touches in-between each catch. As you develop you can then continue to increase the number of touches until you no longer have to catch the ball. The trick to reaching new records of Air Juggling is to keep each touch identical so that you know exactly where the ball is going to land. This repetition improves the played first touch allowing them to receive fast or long passes with ease.
The Coerver Coaching juggling progression has six levels. Progress can be made to the next level once the player is able to reach a goal of 100 repitions. To some this number may seem unachievable but with time and practice you will see progress. A good tip is to understand that once you reach, for example, 15 touches, the next progression isn't 30 reps but 16. Using this approach you will find yourself progressing quickly.
Below is a brief description of the 6 level approach you can apply to develop your juggling skills.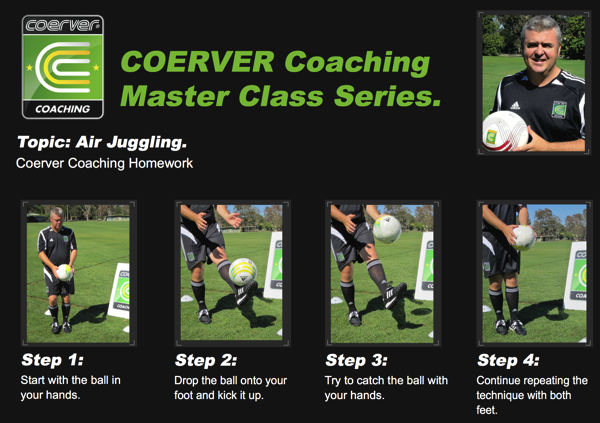 Level 1: Any Touch. Start with the ball in your hands. The test: 4 chances and then add your best two together. That's your score. Every touch counts, even the unintentional one off of the face or chest. Goal: Reach 100 touches.
Level 1B: Any Touch. The test: take 4 tries. Now this single best of the four is your score. Try to get 100 touches in a row.
Level 1C: Mostly Feet touches. The test: "4 tries, best 2". Successive touches that are not on the feet don't count – but don't end the turn. Thus "foot, thigh, thigh, foot, foot, foot, thigh, thigh, thigh, foot, foot" is a score of 8. Goal: a score of 100. After this level rather than starting with the ball in your hands drop it and start from the turf.
Level 2: Feet Only. The test: "4 tries, best 2". Only touches on the feet count, any other touch ends the turn. Goal: a score of 100.
Level 3: Weak Foot Only. The test: "4 tries, best 2". Only touches on the weaker foot count, any other touch ends the turn. Note: Start to test this every week about 2/3 of the way through the first year just to get working on the off foot. Goal: 100.
Level 4: Progressive Juggling. The test: take 4 tries. The best of the 4 is your score. Progressive Juggling follows this pattern. "right(1), left, left(2), right, right, right(3), left, left, left, left(4), … All touches must be with the feet; any variation in the pattern ends the turn. Goal: 15 (=105 touches).
Level 5: Body Parts. The fourteen parts are: four parts of each foot (instep, inside, outside, and heel), each thigh, top of each shoulder, chest, and head. Players collect as many body parts as possible in any order on a single turn. Each body part only counts once until all 14 are collected, even if the player selects to use that part multiple times. Once all 14 are completed on a turn, the player can begin a 2nd collection on that same turn. Players take as many turns as possible in 2 minutes (+extra time on last turn). Record best turn.
Coaches this type of drill is perfect homework for your players. Remember though if you do set this type of drill for your players to practice in their own time then you must give regular tests to see how different players are progressing. A competitive element can also be introduced within the team with a small prize up for grabs.
For more soccer skills drill and tips be sure to follow Coerver Coaching on Facebook, Twitter & Youtube