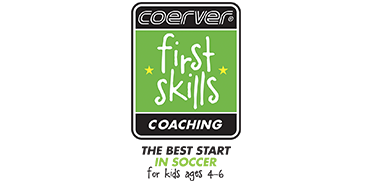 THE BEST START IN SOCCER FOR BOYS AND GIRLS AGES 4-6
BUILDING PLAYER CONFIDENCE AND A LOVE OF THE GAME
FIRST SKILLS is Coerver® Coaching's market-leading program targeted at parents of first time players. The program can be delivered as a stand-alone program, or part of a Partner Club / Partner School program.
Program Benefits include:
A SAFE, SECURE, FUN ENVIRONMENT, giving peace of mind to parents
MORE CONFIDENT YOUNG PLAYERS, comfortable with competitive play
FIRST DEVELOPMENT OF BASIC TECHNICAL AND TEAM SKILLS.