ABOUT COERVER&copy COACHING
Coerver Coaching is the leading brand name in independent soccer education globally, delivering skill based football coaching in 47 countries across the globe. Coerver is a comprehensive coaching program for young players teaching both individual skills and team play to both boys and girls with programs for players of all ages and abilities, starting at aged 4, with a special focus on players aged 7-14.
Coerver Coaching was founded in 1984 by Alf Galustian and former Chelsea great Charlie Cooke who were both inspired by the philosophy of legendary Dutch coach Wiel Coerver. Together they developed a program of teaching that was unlike anything else available then or now.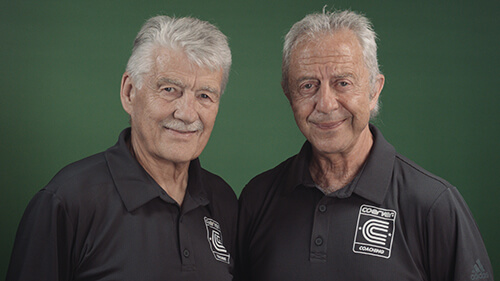 Alf and Charlie's dedication to the game and extensive experience has formed the backbone to the business and made Coerver what it is today - a respected, established and sought after brand of football coaching which has revolutionised the way football is taught and learnt by players and coaches alike.
When starting Alf and Charlie's mission statement was: "To develop Skilled, Confident, Creative, players who combine well with team mates and have the skills to go it alone". Coerver's original mission statement continues to be at the heart of the business however, its curriculum and method have continually developed over time to keep up with the changing nature of the game whilst staying true to its foundational beliefs. These beliefs underpin the "Method" and "Curriculum" taught to each player and coach which has earned Coerver global football credibility.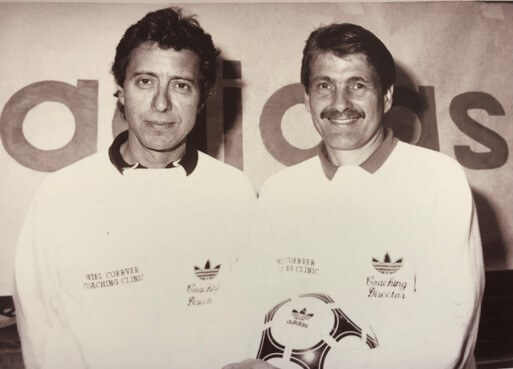 In the late 1970s Dutch European Championship winning coach Wiel Coerver led a revolution in football coaching. He was dissatisfied with the lack of individual skills in the game and the emphasis on defensive play in the professional game that was stifling the more exciting, attacking style of play necessary to score goals and attract fans.
Up to that point, little attention had been given to individual skill development; it was widely assumed that the great players of the game were innately gifted far beyond the capabilities of the average player. Wiel Coerver's early focus was on teaching ball mastery and 1 v 1 skills by having players emulate the 'moves' of footballs all-time great players such as Sir Stanley Matthews, Cryuff, Beckenbauer, Pele and others.
OUR MISSION
To develop Skilled, Confident, Creative, players who combine well with team mates and have the skills to go it alone